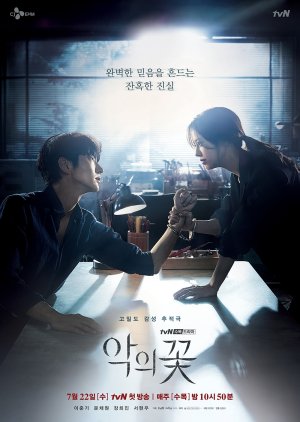 Trailer Flower of Evil (2020)
Flower of Evil (2020)
Sinopsis
Flower of Evil menceritakan tentang Cha Ji-Won (Moon Chae-Won) adalah seorang detektif. Dia menikah dengan Baek Hee-Sung (Lee Joon-Gi) dan mereka mempunyai seorang putri. Baek Hee-Sung tampak seperti suami dan ayah yang berkomitmen, tetapi ia menyembunyikan masa lalunya yang kejam dan hidup di bawah identitas orang lain. Dia menipu istrinya sepenuhnya. Cha Ji-Won mengetahui penipuannya dan mengejar masa lalunya.
Detail
Drama: Flower of Evil (English title)
Revised romanization: Akui Kkot
Hangul: 악의 꽃
Director: Kim Cheol-Kyu
Writer: Yoo Jung-Hee
Network: tvN
Episodes: 16
Genres: Suspense, Thriller, Crime, Drama, Melodrama
Release Date: July 29, 2020 --
Runtime: Rabu-Kamis Waktu Korea 22:50
Language: Korean
Country: South Korea
Drama ini menggantikan Drama sebelumnya "Oh My Baby."
Cast
Family of Lee Joon-Gi & Cha Ji-Won
Kangsoo Police Station
Hanjoogan Magazine
Additional Cast Members:
Fitur ini masih dalam proses
Fitur ini masih dalam proses